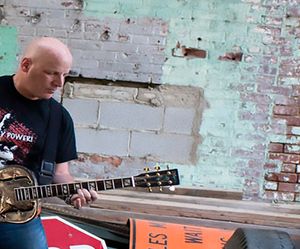 Mark Westin began his musical journey at the age of 12 when he picked up the five-string banjo.  It was an unusual choice for a born-and-raised New York City boy, but Mark fell in love with bluegrass music and spent the next several years soaking up the songs of Flatt & Scruggs, Bill Monroe, Doc Watson, and many others. At 16 he performed with a traveling bluegrass and folk music ensemble where he also learned to play guitar and other acoustic instruments.  At the same time, Mark was absorbing rock on FM radio alongside the variety of styles he heard floating around the melting pot of his hometown, including funk, blues and reggae.  A chance encounter in his senior year of high school led to him picking up an electric guitar and joining a rock band.

For the next ten years, Mark recorded and performed with groups based in New York, Washington, DC and Massachusetts, and took his first serious steps into songwriting. Coming up in the folk music world, Mark was steeped in the belief that music is first and foremost an expression of soul.  "I didn't ever think of music as a job. I wrote because I had to express myself creatively, and I loved connecting musically with other players."

Bad experiences with booking agents and managers led Mark to become disillusioned with the music industry, and he made the choice to step away. For the next decade he worked a variety of jobs, eventually building a career as a television and documentary writer and editor. Throughout, Mark continued to write, perform, and record, gradually working his way back into the music business.  When the pandemic limited his live performance opportunities, Mark dove fully into writing, creating nearly 50 songs in a two-year period.  Ten of these became the album Tales. With the release of Tales in 2023, Mark Westin brings a journalist's focused eye to songcraft, fueled by bourbon, weed, and the wisdom of experience.

Mark has recorded four full-length albums of original songs and six EPs. He received an Emmy nomination for Outstanding Music for feature documentary 'The Everyday', composed and performed the musical score for award-winning independent film 'Riversense', and contributed songs to the soundtrack of 'Fast Lane Summer', winner of Best Documentary at the New York Independent Film Festival. His music is available for licensing to television and film. Please email for details.
Mark has performed across the US, in Canada and the UK. He's beloved by bikers and old ladies alike, and there's a small cult devoted to him on the Belgium-France border.